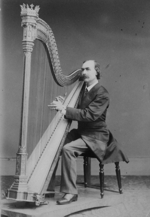 In 2013 harpists in Wales and around the world will commemorate the 100th Anniversary of the passing of John Thomas, Pencerdd Gwalia - The Chief Musician of Wales and harpist to Queen Victoria. This web site will be a tribute to John Thomas from Adlais Music Publishers and Creighton's Collection.
This site will be extended during 2014.
Click link to read a review and see photos from the
John Thomas Music Marathon 29 Sept 2013
OTJA Harp Center and The Netherlands Reformed Church
Bennebroek, The Netherlands.