Venue

OTJA Harp Center
and
The Netherlands Reformed Church
Bennebroek
The Netherlands.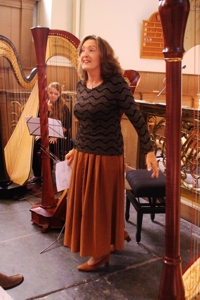 Welsh harpist Rachel Ann Morgan, who lives in The Netherlands and Dutch harpist Edward Witsenburg, who has been a regular guest lecturer in Wales for the last 45 years are organising a John Thomas Music Marathon. During the day a host of Dutch harpists will perform as many of his works as possible and Edward Witsenburg will talk about John Thomas and give advice on performance practice. Audiences are very welcome and for more details please see the next OTJA Harp Bulletin or visit OTJA's web site:
www.otjaharpcenter.nl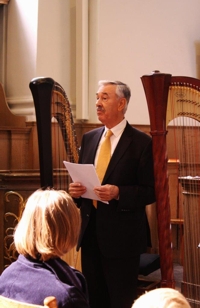 For all our Dutch harpist friends taking part Edward Witsenburg has very kindly translated in to Dutch a birthday tribute to Pencerdd Gwalia by Ann Griffiths titled:
"OF DAFFODILS AND DUVETS"
you can read it here
The John Thomas marathon held on Sunday 29th September in Bennebroek in The Netherlands to commemorate the centenary of his death (1826-1913) was a great success. 26 pieces were performed by 23 harpists and one violinist. The solo pieces were all performed by students from the conservatoires of Amsterdam, Arnhem, Groningen, Utrecht, Zwolle and The Hague. The four duos were played by one student duo and three pairs of professional harpists.
We started at 1 pm with a word of welcome by the organiser, Welsh harpist and singer Rachel Ann Morgan. Our guest of honour was Welsh harpist Sioned Williams, who flew in from London with a suitcase full of John Thomas and his harpist brother Apthomas' music, articles, letters, signatures, etc. Edward Witsenburg then gave a fascinating lecture on John Thomas. We managed to keep to the schedule and had three sessions of one hour with two half hour intervals. Edward had made an interesting and varied programme from the list of studies, Welsh melodies, other solos and the duos. Edward and Rachel Ann started the programme with Thomas' version of Schubert's Ständchen arranged for two harps. Two young men, Anton Sie and Erik Groenestein, played Cambria with panache at the end of the first session. Audience and players were invited to walk to Otja Harpcenter during the intervals. Tea, coffee, apple pies and Welsh cakes were enjoyed by all. There we could look at Sioned's exhibition, see a 19th century Welsh triple harp belonging to Rachel Ann, which was the type of harp that John Thomas first played. Also a late 19th century Gothic Erard, belonging to Edward Witsenburg, which was the type of harp that John Thomas played for most of his life. There too we could watch YouTube clips of children playing pieces by John Thomas: two very young Russian children, an Israeli girl living in Cardiff, Noa Gabay, and the young Welsh talent, Benjamin Creighton Griffiths.
Everyone played on the instruments provided by Otja: a Lyon & Healy, a Salvi and a Camac. Similar instruments were available for warming up at Otja Harpcenter, so that no time was wasted by bringing one's own harp. Rachel Ann explained the stories of the Welsh melodies, and sang two of them unaccompanied. The marathon ended with Ernestine Stoop and Rachel Ann playing Souvenir du Nord, on Russian melodies.