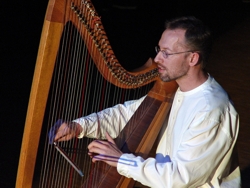 On his rare instrument, Ralf Kleemann presents a cross-section of old and new European and Celtic music with a fresh spirit and unexpected turns. Next to well-known standards, his program consists of a growing number of original compositions. The player always leaves plenty of room for following spontaneous impulses and allows the sound of his harp to do the talking, so that the audience can re-discover this instrument, far away from the mainstream, from a completely new angle.
Having played the piano for many years, he then fell in love with the Celtic harp and has since been refining his very own harp music style. Shortly after finding the instrument of his heart, he published his first solo album, "Phrydotia". Among his teachers and tutors were Kim Robertson, Eva Ignatjeva and Park Stickney.
After living and working in Ireland for some years, where he got the inspiration for his second solo album, "Tides", he found his way back to Germany recently and can be heard on concerts and music festivals, presenting his latest compositions that display the full character of the New Celtic Harp.