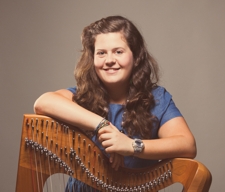 Elinor was born in Aberdeen but finished her primary school education in Aberystwyth. Having just completed her degree in Scottish Traditional Music at the Royal Conservatoire of Scotland (RCS) in Glasgow she now regards herself as a hybrid of the two Celtic cultures.
Elinor began playing the harp at the age of 12, studying with Meinir Heulyn. On moving to Edinburgh she continued her studies with Isobel Mieras who inspired her love of the clarsach and traditional music and was her teacher throughout her time at the RCS.
Elinor has competed successfully in the Royal National Mod and Pan Celtic festivals and is a regular performer at the Edinburgh Fringe Festival. Elinor, who also sings and plays fiddle, has completed two tours with the Cairngorms Ceilidh trail – under the auspices of the Feis, with whom she performed for her Majesty the Queen at a garden party in Balmoral. Elinor also represented Scotland at the Gaelic exchange programme in Donegal and has played for the First Minister on several occasions. She has played at a wide variety of venues including Edinburgh Castle and the Zoo!
Elinor enjoys composing for the clarsach and fiddle and was involved with 6 other young musicians in a creative project exploring the archives at the School of Scottish Studies, with the aim of making the music accessible to a wider audience. A CD was released in 2013 with two of her original compositions included. These received fabourable reviews.
"The instrumental playing is scintillating throughout, particularly that of Elinor Evans' clarsach (her composition Journeys In Time is inspirational)"… David Kidman, Living Tradition
Having won the gold medal for composition at the Royal National Mod in 2011, Elinor went on to win the Clarsach Society Young Composer Award 2012 – the premier performance of her piece for two clarsachs was given at the Edinburgh International Harp Festival in April 2013 to rapturous applause.
Elinor is a natural teacher and enjoys leading workshops combining a passion for the instrument with her deeply held conviction that music should be available for all. She regularly composes small pieces for groups of diverse ability to perform and her pupils have competed successfully in the Royal National Mod both on clarsach and in composition classes.
Elinor was a finalist for the Fussel Scholarship in July 2014 and is currently studying for a Masters in Composition at the RWCMD. This summer she released her first CD Kaleidoscope, alongside a book of original compositions.