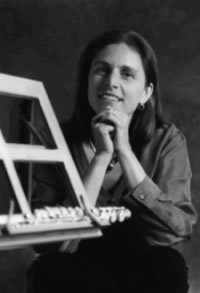 Catherine Handley was brought up in a musical family in Harrogate, North Yorkshire, and learned to play the piano at a very tender age. Taking the flute as her first instrument she studied at the Royal Academy of Music, and after graduating pursued a successful career in the classical world as both performer and teacher.
Catherine has had a varied career which encompasses orchestral and chamber music. She is principal flute of the Welsh Sinfonia, West of England Philharmonic Orchestra (formerly Bristol Philharmonic Orchestra) and plays with the BBC National orchestral of Wales, The Royal Liverpool Philharmonic, BBC Concert & The Royal Philharmonic Orchestras.
She has recorded for HTV and ABC Radio in Australia where she was invited to perform a recital broadcast of music by twentieth century British composers including Bax & Goossens. Recent appearances in festivals include Crickieth, St. Asaph, South Glamorgan & Hereford with her flute & harp duo and The Bay Trio.
A relative latecomer to the British folk music, scene Catherine brings a polish and a passion with her playing. A chance meeting with Huw Chidgey at a session in South Wales led to a few tentative rehearsals, and from there, their set developed with 'In the Tradition' being the result. This passion and her classical sense of disciplined playing combines uniquely with Huw's largely chaotic approach to life in general and singing in particular.