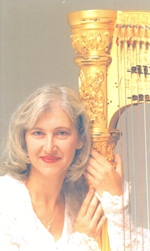 Elizabeth Volpe Bligh became the Vancouver Symphony's Principal Harpist in 1982, after 6 years with the National Ballet of Canada Orchestra. She studied harp with Judy Loman, Alice Chalifoux and Edna Phillips.
Her career includes concerti, chamber music concerts, movie soundtracks and recordings, eg. The Greater Vancouver Album. Michael Conway Baker wrote a Harp Concerto for her, which she performed with the VSO.
Elizabeth's students have won awards such as the VYSO Concerto Competition, Edith Lando Gifted Youth Scholarship, and RCM Gold Medal, and have been in the National Youth Orchestra of Canada. Many have become professional harpists. Elizabeth teaches privately, at UBC, and the VSO School of Music. In 2012, she taught and performed at the 6th International Harp Workshop at Santuario di Crea in Italy and co-founded Canadian International Summer Harp Institute with Gianetta Baril, Judy Loman and Cristina Braga. She coached at PRISMA, June 2014 and performed at the World Harp Congress in Sydney, Australia, July, 2014. She will be teaching at the VSO Summer Orchestra Institute in 2015.
Her articles are in various harp journals and online. She has given master classes in China, New Zealand, the USA, Italy and Canada. Her compositions for solo harp, six of which are in the 2009 Royal Conservatory of Music Syllabus, are being taught and performed internationally. She is President of the West Coast Harp Society and was Chair of the 11th World Harp Congress Host Committee. She has performed and spoken at harp conferences and festivals and was a judge at the OSM Standard Life Competition in 2010. Her web site, www.elizabethvolpebligh.com, has articles on subjects such as preparing harp parts for orchestra, performance anxiety and tuning.
"unparalleled purity and subtlety" - David Gordon Duke, Vancouver Sun, Oct. 29, 2012