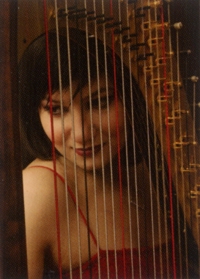 Laura Vinciguerra obtained a first-class degree with honours at the Academy of Music of Perugia, studying with Victoria Jordanova, Judith Liber, Catherine Michel and Susanna Berruccioli. Following her diploma, she received a first-class degree with honours in second level solo interpretation and instrumental didactics.
She has performed in Italy and abroad as a soloist, a member of chamber groups, and with orchestras including the Symphony Orchestra of Perugia, the Soloists of Perugia, the Juvenile Symphony Orchestra of Viterbo, the Juvenile Philharmonic Society of Tubingen, the Chamber Orchestra of the Bielorussian Academy of Minsk, the Lyric Orchestra of Terni, the Kronstadt Philarmoniker di Brasov, the ORT and the Juvenile Italian Orchestra, under the direction of Gabriele Ferro and Lu Jia.
She has created a number of chamber ensembles, for which several famous Italian composers have written music (Gianluca Podio, Marino Bararello, Francesco Santucci, Pier Panlo Scattolin, Carlo Pedini). She has performed in jazz groups alongside the Soloists of Perugia, performing with artists like George Benson and Francesco Cafiso, with whom she recorded a CD dedicated to Charlie Parker.
She has also made recordings of solo and chamber repertoire for Brilliant Classics, Max Research, Arte Nomade and Rai Trade. In January 2009 she performed in the first night of the oratorio Beata Angela da Foligno by Carlo Pedini (whose Testamento di Angela for harp is dedicated to her), released on DVD and CD for Egea-Quadrivium Records.