Anne Roos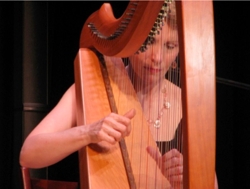 Anne Roos began playing the Celtic Harp in 1983. Her performance career started with Renaissance fairs, and she quickly became a favored soloist for many other types of events. She is especially popular for weddings and corporate events. Her concert performances attract international acclaim—Anne's music has been featured on United Airlines Inflight Music Service.
Anne's music repertoire spans traditional Celtic (Irish, Scottish, Welsh), English, folk, religious and secular, Early, Renaissance and classical music, to Broadway, contemporary modern popular movie music, Beatles, rock and jazz, and is virtually unlimited. She can easily provide the traditional "Canon in D" and "Here Comes the Bride" for a wedding processional, and play classic Frank Sinatra or Metallica at a reception. Her ability to faithfully play this broad range of musical styles has made here a popular and much sought after musician for all types of events.
Education
Anne studied music theory and received her formal music education at the University of California, Los Angeles (UCLA). When the Celtic harp piqued her interests, she studied harp techniques from world-renowned harpist Sylvia Woods and contributed to her book Music Theory & Arranging Techniques for Folk Harps. Anne also studied professional stage performance with Ed Hooks (San Francisco, CA) and at the Living History Centre (Novato, CA).
Teaching
Anne Roos applied her formal training to teaching music for the Los Angeles Unified School District. She continues to work with students, presenting a number of educational demonstrations for school assemblies. Anne has given workshops to students in the Sacramento Waldorf School, El Dorado Union School District, and Merced Union High School District, and Minden Elementary School. She has taught harp since 1987, giving educational demonstrations, focused workshops, and taking on private students whenever her performance schedule permits.
Anne is also a published author and considered a wedding music specialist with her book "The Musician's Guide to Brides", published by Hal Leonard Books as a how-to manual for musicians who are interested in performing at weddings. She also counsels and mentors musicians and entrepreneurs to help them make a living by gigging. Anne's latest book, also published by Hal Leonard Books, is "The Bride's Guide to Musicians: Live Wedding Music Made Easy and Affordable". This is the guide for those seeking to build live music into their wedding plans while saving money.
Performances
Anne has performed throughout the United States. She frequently plays for business openings and private parties, as well as literally hundreds of weddings both small and grand. Her public performances include appearances in venues both small and grand: from bookstores, private clubs, and café concert venues to resort hotels, cruise ships, Highland games, Celtic and Renaissance fairs, wineries, meditation retreats, and convention centers.
She has accepted invitations to perform for many dignitaries at home and abroad, including the Lord Mayor of Dublin, Ireland. Anne Roos is not only comfortable performing in front of a live audience, but also on camera and behind a microphone. She has appeared on a number of television programs and radio shows. Several resort vacation videos promoting travel to beautiful Lake Tahoe, where she resides, showcase Anne on the Celtic harp. She has been able to utilize her extensive knowledge of music as a Classical, Jazz, and World music announcer for National Public Radio.