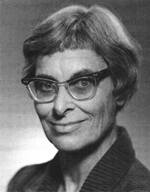 Barbara Pentland (1912-2000)
Barbara Pentland was born in Winnipeg and began to write music at the age of nine, despite the disapproval of her parents; however she was eventually allowed to study composition while at finishing school in Paris. In 1936 she received a fellowship to the Juilliard Graduate School in New York. She also studied with Aaron Copland at the Berkshire Music Centre. During the Second World War, Pentland taught at the Royal Conservatory of Music of Toronto. In 1949 she was invited to join the just-founded music department of the University of British Columbia, a position she held until 1963.
Pentland's style was influenced in her early works by late-Romantic music, later by neoclassicism and serial techniques and finally by extended techniques and directed improvisation. Pentland was awarded honourary doctorates from Simon Fraser University and the University of Manitoba and named a member of the Order of Canada. She was recognized by scholars and many fellow composers as one of the most significant figures in 20th century Canadian music.
Barbara Pentland was an Associate Composer of the Canadian Music Centre. For more information and a list of her works please go to www.musiccentre.ca.