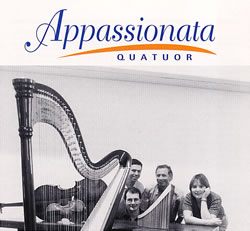 This chamber music ensemble was founded in Geneva in 1990 by the violoncellist Marc-Andre Thiebaud. The exceptional uniting of such brilliant and varied instruments with such virtuosity and melody, favours a new approach to music. With the help of subtle sound alliance, the Quatuor Appassionata (Q.A.) subjugates their audience in a dreamy atmosphere of life and peace.
The Q.A. musicians are academy laureates and have become individually specialised with the greatest Masters of their respective instruments. They have also participated with success in international music competition and training courses. They perform frequently in concerts and participate in Radio and Television programs. They regularly record in Solo or with other musicians, and interpret original works dedicated to them. In line with their training and their name, the Q.A. repertoire wishes to be lively and varied, it stretches without limit from ancient to modern-day music.
The works performed here are not, of course, the originals. They have all been arranged by the musicians of Q.A. who have adapted them at best, to the tessitura and both technical and expressive possibilities of their instruments, with a constant will to respect the original work.
The parts of the program, devoted to Baroque music have hardly endured any modification, except for the replacement of a transverse flute (Vivaldi, Telemann), or a fipple flute (Quantz), by a Pan-pipe, and that of a harpsichord by a harp. During the periods of ancient music (Renaissance and Baroque), it was usual for a composer not to compose specifically for an instrument, be it string or wind. Consequently, the arrangements proposed by Q.A. for the Baroque period correspond perfectly with the customs of those times, despite the fact that the Pan-pipe was still little known in western Europe. With regard to the classic and romantic periods, the destination of the musical compositions was certainly more precise and strict; nevertheless, the arrangements of Q.A. are always accomplished with the objective of never betraying the composer.
Members:
Michel Tirabosco: Pan-pipes
William Garein: Violin
Marc-André Thiébaud: Violoncello
Nathalie Chatelain: Harp