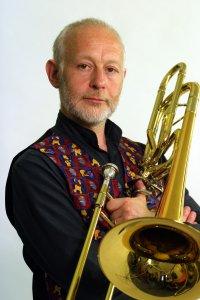 John Kenny
"Imagine the trombonist's frustration: no established repertoire, no legacy from the giants of western music. For three centuries the instrument has been consigned to the back of the orchestra, to heavy-weight padding and buffoonery. To escape that stigma the trombonist must interest himself in extremes; the very old, the very new, jazz and areas where the natural theatricality of the instrument is valued. I am continually searching for new ways of using the trombone and for interesting musicians to perform with, and to that end I have developed duo partnerships with piano, percussion, organ and electronics in an attempt to reveal different facets of the instrument. Once you start looking the possibilities are endless!"
John Kenny's repertoire extends from ancient and ethnic music to the present day, and he frequently appears as a concerto soloist with leading orchestras and ensembles. He offers lectures and recitals as a soloist, and duos with:
Chris Wheeler (UK) - electronics

George Nicholson (UK) - piano

Mario Angelov (Bulgaria) - piano

John Kitchen (Scotland) - organ

Paul Flush (Belgium) - Jazz piano and Hammond organ
He is also co-founder and co-director of Carnyx & Company (voice/trombone/electronics - music theatre), TNT Music Theatre Company, Scot Free (improvising composers ensemble), the early music group His Ain Draucht Trumpets and The HeadSpace Ensemble, featuring quadriplegic musician Clarence Adoo with trumpeter Torbjörn Hultmark and Chris Wheeler on sound projection and turntables.
John Kenny was born in 1957 in Birmingham. Internationally recognised for his interpretation of contemporary music, he also performs jazz and early music. As a composer, he is particularly active in collaborations with dance and theatre, and this love of theatre is often an important feature of his recital output. His past commissions have included the London Contemporary Dance Theatre, Huddersfield Contemporary Music Festival, the International Trombone Association, Scottish Chamber Orchestra, Edinburgh Contemporary Arts Trust, Chamber Group of Scotland, Dance Umbrella, American Drama Group Europe, The New Haven International Festival of Arts and Ideas (USA) and the Festival d' Angers, France. Recent commissions have included a sonata for contra-bass trombone for the American virtuoso David Bobroff, premiered at the Glasgow Brass explosion Festival in 2005, and HeadSpace for trumpet, trombone, sound designer, and the new Head=Space device for quadriplegic musician Clarence Adoo, designed by Rolf Gehlhaar, premiered at the St. Magnus Festival in June 2005 and subsequently featured in a BBC documentary. Since autumn 2005, Kenny has collaborated with Welsh Artist Sean Harris to create two animated films, Hela'r Twyrch Trwyth and Dadeni, and they are currently working together on a film based upon the Battle of Mons Graupius.
In December 2005 Kenny acted as narrator in the premier of his own dramatic setting of the Book of Revelation in modern German translation, Das A und Das O for trombone, organ, and actor for the Landshut Festival, going on to give performances in Germany & Switzerland with trombonist Michael Buettler & organist Georg Rothenaicre throughout 2006. In June 2006 Kenny premiered his cantata Nocturne for solo trombone and chamber choir in the Arctic Cathedral of Tromso in Norway, with Vokal Nord, and also composed and directed music for The American Drama Group of Europe's production of Shakespeare's The Taming of The Shrew, which premiered in Singapore and went on to tour the far East and Europe for ten months. In March 2007 Kenny released the sixth in his ongoing series of CD albums on the BML label: The Marshall Plan, collaboration with the American poet Grantly Marshall. Projects in 2007 have included performances in France, Portugal, China (including the debut of the European Trombone Ensemble) and Bulgaria, as well as a three month period as the first ever Glenfiddich Composer in Residence in Dufftown. He received a BBC commission to write a trio for trumpet, horn and carnyx, premiered by Carnyx Brass making its debut before a live audience of 25,000 at Glasgow's Proms In The Park. This performance was televised nationally, and will be re-broadcast at Christmas in combination with a documentary about John Kenny filmed at Dufftown. Projects for 2008 include a music theatre production in Peru, and a period as composer and performer in residence at the Xenakis Institut, Paris, in May.
After studying with Harold Nash at the Royal Academy of Music in London, and then on an Arts Council bursary with James Fulkerson, Kenny worked as an actor/musician with the Bubble Theatre in London, then made his debut as a soloist in the Purcell Room in 1982. In 1983 he was a prize-winner at the Gaudeamus International Competition in Holland, and has since given recitals and broadcast world-wide, both as a soloist and with ensembles including Ensemble Modern of Frankfurt and Ensemble Alternance of Paris, the BBC Scottish Symphony Orchestra, Paragon Ensemble, and the National Orchestras of Romania and Moldova, and the Sofia Philharmonic. In 1984 he was a founder member of the TNT Music Theatre Company, collaborating with playwright Paul Stebbings in productions which continue to tour hundreds of venues throughout Europe, Russia and Japan, and Korea.
Project for 2008 included the release of a film Secret House directed by John Kenny in collaboration with film maker John McGeoch, the premier and recording for CD of a complete new repertoire for trombone, harp & string quartet, Embracing The Unknown with Catriona McKay & the Edinburgh Quartet, and the world premier at Dartington International Summer School of Panta Rei by Juraj Filas, composed for Trio d'Art (Paul Archibald trumpet, Helen Reid piano, and John Kenny trombone). Throughout September Kenny was composer in residence at the CCMIX Insitut in Franc, and October saw the debut of his new jazz ensemble Red Shift. Projects for 2009 include a world tour of the new TNT Theatre production of Romeo & Juliet, and a solo recital and lecture tour of the USA in February & March.
In 1993 John Kenny was elected an Associate of the Royal Academy of Music, and is currently a professor at both the Guildhall School of Music and Drama in London, where he specialises in the interpretation of contemporary music and The Royal Scottish Academy of Music and Drama, where he concentrates on sackbut and the interpretation of early music.
In 1992 John Kenny was invited to join a team of specialists at the National Museum of Scotland committed to reconstruct the Deskford Carnyx. Discovered in Northeast Scotland, this is the finest example so far discovered of an Iron Age Celtic war horn which was the most splendid and powerful wind instrument of the ancient world. In 1993 he became the first person to play the carnyx for 2000 years, and has since lectured and performed on the instrument internationally, in the concert hall, and on radio, television, and film. There are now numerous compositions for the carnyx, and it features on seven CD's, and on March 15 2003 he performed solo to an audience of 65000 in the Stade De France, Paris.
John Kenny lives in Edinburgh with his wife and two sons.
For more detailed program and repertoire information, please contact Carnyx & Co.
John Kenny performs exclusively on Conn trombones.