Jade Strings
Jenny Dowdall - cello & Aisling Ennis - harp
with guest - Helene Hutchinson - soprano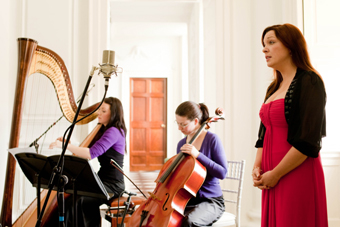 When Jenny Dowdall and Aisling Ennis met in the National Youth Orchestra of Ireland in 1998 they became great friends. Ten years later, having gone their separate ways to study abroad, Jenny and Aisling reunited to bring their friendship to music forming Jade Strings in 2008.
This unusual combination of instruments works remarkably well, showing off their virtuosic capabilities. For this album, we have collaborated with renowned Irish soprano, Helene Hutchinson. Helene met Aisling while working for Celtic Rose, and also works regularly with the Dublin String Quartet with whom Jenny is a member.
We regularly perform at weddings and corporate events all over Ireland, and enjoy arranging pieces for cello and harp.
Please visit our website www.jadestrlngs.com for more information.
Jenny Dowdall: Born in Dublin, Jenny hails from a musical family. Since graduating from the Royal Northern College of Music in 2007 with a degree in performance, Jenny has been freelancing regularly with the RTÉ National Symphony Orchestra of Ireland, and the RTÉ Concert Orchestra. As a passionate chamber musician, Jenny is a member of the Dublin String Quartet, with whom she will commence her Masters degree in DIT. studying with the Vanbrugh Quartet in September 2009. Jenny plays on a cello by Conor Russell made in 2003 and a bow by Noel Burke.
Aisling Ennis: Since graduating from the Royal Irish Academy of Music, and studies at London's Gulidhall and Royal Academy schools of music Aisling has established herself as one of Ireland's foremost concert harpists. Aisling enjoys a varied career of orchestral, chamber and solo work and performs regularly with the Irish Chamber Orchestra, RTE National Symphony Orchestra and RTÉ Concert Orchestra. Aisling has also appeared in concert with pop artists including Sinéad O'Connor, Josh Ritter and Kanye West and on national TV and radio.
Helene Hutchinson is a soprano from Dundrum. Now living in Drogheda she is in great demand singing as guest soloist for choirs throughout the country. Having recently been named Musician of the Future, she has had great success in all major feiseana in Ireland including Feis Ceoll RDS Soprano Solo and Sligo feis overall winner and Lyric fm bursary. She has performed in National Concert Hall, the Mansion House for the Lord Mayor Dublin and has featured on Dublin South Fm and the Late Late Show.