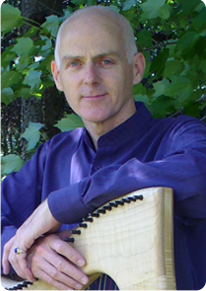 Internationally known harper and composer William Jackson has been a major force in Scottish Music for many years. As a founding member of the band Ossian (1976-1989) he was part of the revival of traditional music in Scotland in the 70's and 80's, and became known as an innovative composer, using a mix of traditional and classical musicians in such acclaimed works as The Wellpark Suite (1985), A Scottish Island (1998) and Duan Albanach (2003).
Touring extensively in Europe and North America he gained a reputation as a fine performer of traditional music featuring the Scottish harp, and also as a teacher. William is also a trained Music Therapist (Guildhall) and has worked in that area since 1993 in both Scotland and the USA. Apart from his Scottish background William has also been influenced by Irish music in his compositions, as both his paternal grandparents were from Co Donegal, Ireland, and he spent a great deal of his childhood there.
In conjuction with his concert work, lessons and workshops on Scottish music are offered, as well as presentations on his work in Music Therapy.