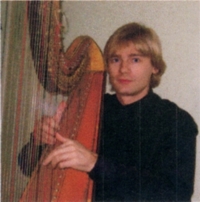 Born in Narva, Estonia, in 1974, Andres Izmaylov comes from the third generation of a dynasty of harpists. From the age of seven, Andres Izmaylov studied at the N. Lysenko specialist music school in Kiev, Ukraine, and from 1991 -1996 he was a student at the National Academy of Music in the same city.
Until 1988 he was taught by his mother but from the age of fourteen onwards he travelled regularly to Moscow where he participated in Masterclasses with the famous teacher, Milda Agazarian. In 1993, aged only 19, he was appointed co-principal hasp of the National Symphony Orchestra of the Ukraine, and in 1995 he was appointed to the prestigious post of co-principal hasp of the St Petersburg Philharmonic Orchestra, widely recognised, under its principal conductor, Yury Temirkanov. as one of the world's greatest orchestras. In addition to his orchestral playing, Andres has undertaken many solo recitals in St Petersburg and Moscow and recently travelled to Sendaj (Japan). His involvement in the eNsemble project organised by St Petersburg's Pro Arte Institute, has led to many performances of avant-garde and experimental music.
As a soloist with orchestra, Andres Izmaylov has played in performances of Mozart's Concerto for Flute and Harp, Ravel's Introduction and Allegro, the Reinecke Concerto, Spohr's Concertino for violin and hasp with orchestra and Doppler's Concerto for two flutes and hasp. He is a regular participant in Moscow's International Hasp Festival, where he premiered H-A- R-F-E in 2005. H-A-R-F-E and other compositions by Andres from this CD are published by "ADLAIS MUSIC PUBLISHERS" in 2007 together with newest pieces for solo harp - Sonatka in C.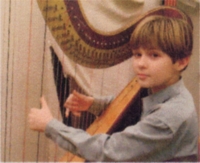 His young son, Artemy Izmaylov (born in 1994) is a gifted harpist who carries on the family tradition. Artemy was a major prizewinner in the Wales International Compertition held at Caernarvon in 2006.