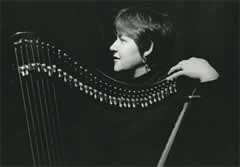 Janet Harbison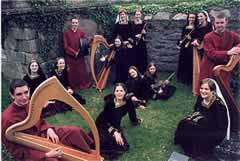 Irish Harp Orchestra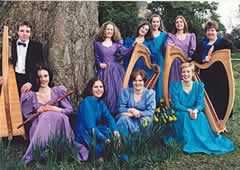 Irish Harp Orchestra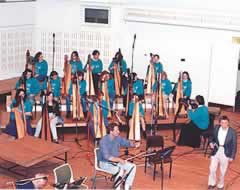 Irish Harp Orchestra
Janet Harbison
Born in Dublin on August 1st, 1955, Janet Harbison is acknowledged as one of Ireland's most prominent traditional harpers and pioneering personalities in the Irish harp music scene. She is an authoritative resource on the history and music of the Irish harp and ethnic music.

Her discovery and enthusiasm for much of the extinct ancient harp repertoire led her into teaching and reviving the music through the oral tradition. For this activity, she has often been referred to as "Ireland's Crusading Harper" and many of today's rising professional performers and teachers are former students.
To describe Janet as an influential teacher would be to tell only half of the story. She is also a prolific composer, a talented performer, writer and producer.
She established the Harp Orchestras in order to provide her students with the opportunity to perform in public and to develop careers as professional harpers.
As a composer she realized that there was little 'new' music being written for the Irish harp and set about correcting the imbalance. Her arrangements are widely used and harpers worldwide await her new publications with bated breath.
With more than 20 years of performance, composition, teaching and promoting the tradition of harping she has a staggering number accolades to her name.
"…wonderfully attractive, professional, faultless, highly delightful and charming, Janet Harbison's performances are technically impeccable, and always most subtle, musical and expressive."
DEREK BELL, Harper with the Chieftains
The Irish Harp Orchestra and The National Harp Orchestra.
The Irish Harp Orchestra is a professional touring company while The National Harp Orchestra is a junior stage production company with membership from 11 years upward. The Irish Harp Orchestra grew out of the junior orchestra and featured on a Grammy Award winning album with the Chieftains. This is an internationally touring company which features up to 16 harpers and 8 other musicians, singers and a team of up to 32 dancers in large scales concert presentations.

The National Harp Orchestra offers a unique opportunity for young and maturing people to mix in a cultural environment, to participate in large scale stage productions and gain valuable life experience, sharing in the great adventure of the orchestra on tour. Members receive training in stage craft, concert presentation, personal development, confidence building and leadership skills, TV work and recording.

The original orchestra was found in 1992 as the Belfast Harp Orchestra to celebrate the Bicentenary year of the Belfast Harpers' Assembly an historical event which original took place in 1772. In 2004 we will establish the Irish American Harp orchestra in our continuing effort to offer all traditional harpers the opportunity to perform in public and to continue our work of promoting and celebrating the tradition of Irish Harping.