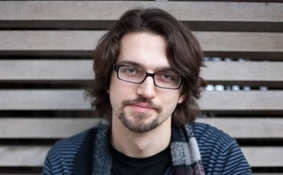 Thomas hewit Jones - Composer
Thomas Hewitt Jones is an award-winning composer of both concert and commercial music. Winner of the 2003 BBC Young Composer Competition, he studied music at Cambridge University where he was also organ scholar of Gonville and Caius College.
His concert work has been heard on BBC Radio, Television and in many of the major concert halls in the UK, including the Royal Festival Hall, London's South Bank centre and the Royal Albert Hall. Thomas has worked with numerous acclaimed ensembles such as the Britten Sinfonia, Sounds Positive, Members of the Royal Opera House orchestra and the Carducci Quartet. He has had pieces published by Faber Music, ABRSM, Novello & Co, Universal Music and Oxford University Press.
Thomas has worked in Hollywood assisting on the film scores for the films 'Forbidden Kingdom' (the Kung Fu epic featuring Jackie Chan & Jet Li, dir. Rob Minkoff) and 'Town Creek' (dir. Joel Schumacher), and has written music for radio and TV stations including BBC Radio 4 and ITV.
Thomas has written extensively for ballet, including the 2008 Welsh Independent Ballet commission 'Under Milk Wood', and an adaptation of Llewellyn's novel 'How Green was my Valley' in 2009.
"danceable, characterful and beautiful – almost too beautiful."* * * Classical Music Magazine February 2010 [review of 'Under Milk Wood' album]
"…the wonderful new music, composed, orchestrated and partly performed live by Thomas Hewitt Jones." 5 stars – The Independent [about 'Under Milk Wood']
"a touching and beautifully presented tribute to a significant figure in 20th-century British music" The Guardian [about Imogen Holst String Chamber Music]
Thomas has written incidental music for numerous theatre productions, and is currently writing a large-scale musical. Thomas's recent projects include 'A Hymn for Canterbury' for the Canterbury Singers, a cello piece 'The Flycatcher' for 'More Time Pieces for Cello' published by the Associated Board of the Royal Schools of Music, a Harp commission for Eleanor Turner, an Oboe commission for James Turnbull and an Organ commission for Martin Neary for inclusion in The Little Organ Book published by Novellos. In late 2009 Thomas's carol 'Child of the Stable's Secret Birth' was premiered by John Rutter and the Royal Philharmonic Orchestra at the Royal Albert Hall, and in 2010 Thomas received a BBC Music Magazine 'Premiere Album' award for an album which he produced of the music of Imogen Holst.
"Double 5*" – BBC Music (performance & sound) [about 'Imogen Holst: String Chamber Music' album]
'Thomas Hewitt Jones' moody and heartbreaking score…is demonstrable proof of his award-winning talent' [Theatre Wales]
Thomas recently composed a new ballet, 'The Lady of the Lake', based on the Welsh folk tale for a UK tour of the Welsh national ballet company, 'Ballet Cymru, that toured throughout 2010 including Lilian Baylis Theatre, Sadlers Wells, London in November.
Other recent commissions include composing and recording the music for the London 2012 / LOCOG Mascot Animated Films for the London Organising Committee of the Olympic Games and Paralympic Games the latest instalment of which was 'Adventures on a Rainbow' (performed by the National Youth Orchestra of Great Britain and conducted by Thomas).
Management: Negus-Fancey Company. mail@negusfancey.com