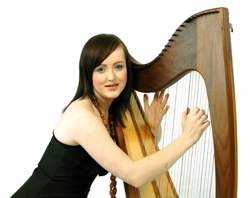 Rachel Hair - harp
A "gifted exponent of the harp" (Net Rhythms), Rachel Hair is fast making a name for herself as one of the most exciting and dynamic performers of her generation. Hailing from the Scottish Highland village of Ullapool, her eclectic mix of Scottish, Irish and original music, highly influenced from both her time studying alongside jazz, folk, rock and classical musicians and her mixed Scots and Irish parentage, has led her to be described as "one of the most innovative young musicians to have emerged over the last few years" (The Irish Music Review).
Since graduating with a first class honours music degree, Rachel has gained recognition as a performer and composer leading her to play and tour many times throughout the UK, Europe, the USA and Asia, playing at many prestigious festivals including 'Celtic Connections', 'Sidmouth Folk Week' and 'The Edinburgh International Harp Festival'. "It would be difficult to find another Celtic music debut album of such consistent quality and beauty" (Rambles.net). Rachel's solo album "Hubcaps and Potholes" was released to great critical acclaim in 2006 and was described as "an impassioned work" (Songlines) and "a highly accomplished album".
Her new album "The Lucky Smile" was recorded after Rachel was awarded a grant from the Scottish Arts Council and features her trio of harp, guitar and double bass together with special guest musicians. With an official UK retail release date of the 23rd March, Rachel and her trio will spend 2009 touring and promoting the new album.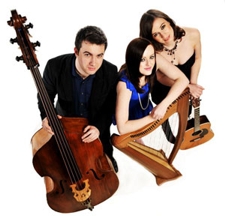 As well as performing Rachel is a highly experienced, and much sought after freelance tutor of the harp. Regularly tutoring for organistations including Feisean Nan Gaidheal, Feis Rois (Scottish Gaelic Music), Comhaltas Ceoltóirí Éireann (Irish music) and Glasgow's own Celtic Connections, she is currently the harp tutor at Douglas Academy, one of Scotland's four specialist schools for excellence in music. Rachel frequently travels far and wide to countries which have included Switzerland (Celtic Days Harp Festival) , Finland, Denmark, the USA and India, to teach not only Scottish/Irish Harp but general traditional/Celtic Music and Groupwork. She teaches using the traditonal "by-ear" method with a strong emphasis on fun and enjoyment. She has also lectured in Scottish and Irish Traditional music at Universities in both America and Scotland.
The Rachel Hair Trio
One of the leading bands on Scotland's vibrant folk scene, the Rachel Hair Trio presents a sparkling blend of melodic harp mastery, rootsy songs and sophisticated rhythmical drive.
Fronted by acclaimed harpist-compose Rachel Hair and featuring the much-in-demand singer-guitarist Jenn Butterworth alongside top Scottish double bassist Euan Burton, the group has honed a repertoire drawn from traditional, contemporary and international sources to create performances that crackle with character, passion, verve and joie de vivre.
"Utterly spellbinding. . . full of subtle delights and innumerable charms" NetRhythms
"The Rachel Hair Trio seem to be a cup running over with talent. Great Fun" Fatea