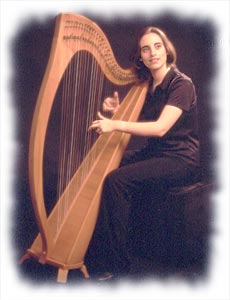 Gráinne comes from County Mayo in the west of Ireland, and is a music graduate of Queen's University Belfast. She began to play traditional Irish music on tin whistle at an early age, before turning to the concertina and later the harp.
Over the past few years, Gráinne has toured extensively throughout Europe and the United States. She is also a qualified teacher of traditional Irish music and is in great demand at summer schools and festivals both in Ireland and abroad.
Gráinne has featured on a number of recordings and her first solo CD, Between the Showers, was released in 1999, followed by Golden Lights and Green Shadows in 2003 and The Thorn Tree in 2006.
For more uptodate information and to contact Grainne please vist her web site: grainnehambly.com