Maeve Gilchrist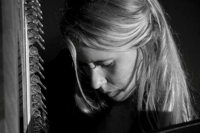 "Maeve Gilchrist is a phenomenal harp player who can make her instrument ring with unparalleled purity" (Dirty Linen).
Maeve Gilchrist was born and raised in Edinburgh, Scotland. Daughter to an Irish mother and Scottish father she grew up immersed in traditional folk music. At an early age Maeve was accepted into the City of Edinburgh Music School where she spent seven years studying classical piano, clarsach (Celtic harp) and vocals. From her early teens, Maeve was an in-demand member on the traditional music scene in Scotland where she performed at events such as the opening of the Scottish Parliament, the Celtic Connections Festival and the International Edinburgh Harp Festival. At seventeen Maeve received a full scholarship from the Berklee College of Music in Boston, USA where she studied jazz and world music, alongside a colorful career as a professional musician and teacher.
Recent performance highlights include the Tanglewood Jazz Festival, the World Harp Congress, Celtic Connections Festival, the Edinburgh International Jazz Festival and the ICONS Irish Festival. She has collaborated with some of the most celebrated contemporary musicians on the scene today such as Darol Anger, Vardan Ovsepian, Kathy Mattea, Tony Trischka and Esperanza Spalding. Maeve released her album 'Song of Delight' on the Adventure Music Label in 2010 and is currently working on two new recording projects to be released in early 2013.
Maeve is based in Boston MA. She tours regularly with her own trio, featuring Scottish bassist Aidan O' Donnell and fiddler Duncan Wickel, fusing her Scottish roots with the colors and freedoms of jazz to produce a fresh and unique new sound. Maeve also plays with the legendary fiddler Darol Anger's new All-Star Band, the furies and has a duo project with percussive dancer Nic Gareiss. Her solo project is called 'THE OSTINATO PROJECT', an exploration of the harp with a focus on each hand working as an individual voice.
She is the first lever harpist to be employed as an instructor by the Berklee College of Music's string department and has written a folk harp method book, published by Hal Leonard Music.
The Maeve Gilchrist Trio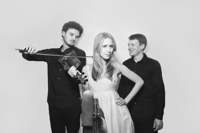 Still in her mid twenties, Edinburgh born harpist, singer and composer Maeve Gilchrist has been credited as an innovator on her native Celtic Harp. With her distinct vocal sound and exquisite harp playing, Gilchrist has bought audiences to their feet all over Europe and North America.
Gilchrist put together her alternative string trio after being inspired by the rich and innovative string sounds that the north East new-acoustic scene had to offer.
Along with her regular collaborator, bassist Aidan O' Donnell (Scottish Jazz Awards recipient), Maeve is joined by fiddler Duncan Wickel (of the John Doyle Band) to form a unique and colorful string sound drawing deeply on Maeve's traditional music background while also including elements of improvisation.
The Maeve Gilchrist trio performs exciting original music and breathes life into traditional songs.