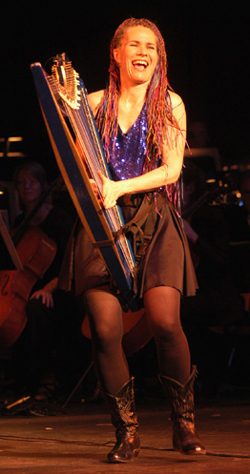 Deborah Henson-Conant is best known for her highenergy performances that blur the line between concert and theatrical event. She's a Grammy-Nominated recording artist and star of her own Public Television special, "Invention & Alchemy," with 80-piece orchestra.
She sings and plays the harp, with a theatrical narrative of storytelling and humor. She performs solo concerts and One-Woman Shows – and also appears frequently as a featured guest with orchestras, performing her original music. Her symphonic performance is captured in the award-winning 2006 CD & DVD "Invention & Alchemy."
She has been described as "the wild woman of the harp" by bandleader Doc Severinsen and "a cross between Leonard Bernstein, Steven Tyler and Xena, the Warrior Princess" by the Boston Globe. Her playing ranges from full-out bluesy to delicate ballads in a genre she describes as "Blues-Flamenco-Celtic-Funk-Folk-Jazz-Musical- Theatre." Her audiences cross generation, gender and genre.
Henson-Conant has toured with the Boston Pops, premiered her original music with symphonies throughout the US, played rock clubs and opera houses in Germany and Celtic Festivals in France, opened for Ray Charles at Tanglewood and starred in her own Public Television special; she's been featured on NBC, CBS, CNN, NPR and hosted TV shows for BET and BBC Affiliates. She's been interviewed by Charlie Rose, Joan Rivers, Billy Taylor, Studs Terkel, Scott Simon & Susan Stamberg.
Henson-Conant has revolutionized her instrument. She's brought vibrant passion and individuality to its sound – and in the process she herself has been transformed. Her work is an exploration of possibilities – a transformation that moves her audience out of the ordinary and into the extraordinary. If you're one of those people who thinks all harp music is soothing and insipid, think again. This is a feel-good, outside-the-box, bring-thefolks- you-love and celebrate-everything kind of show.
"Imagine the talented love-child of André Previn and Lucille Ball!" National Public Radio
"She's doing for the harp what Elvis and Chuck Berry once did for the guitar!" Denver Post
"Reshaping the serenely Olympian harp into a jazz instrument by warping it closer to the blues." New York Times
"Calling Henson-Conant a harpist is like referring to Joe DiMaggio as a guy with a bat. Technically it's accurate, but you're only scratching the surface." Grand Rapids Press