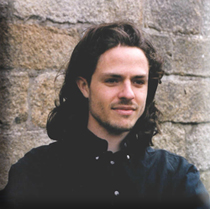 Tristan LE GOVIC was born in Lorient in 1976. He began learning the Celtic Harp at the age of seven at the Traditional Music Conservatoire of Soye, and after at the Lorient Conservatoire.
After receiving his Baccalauréat, he studied at the University of Rennes (Masters degree in Music, 2002). Distinctions include: Gold Medal in Celtic Harp (Music Conservatoire, Rennes, 1998) and Diploma of Music Writing (Conservatoire of Nantes, 2000). He gained the National Diploma of Teaching Music in 2005.
In 1995, he won the Kan ar Bobl harp competition, in addition to a host of other competitions. He has composed music for the cinema: Pêcher à Islande (CNRS film competition first prize, 1996), Le Sauvetage des Naufragés en Baie d'Audierne (Commissioned by the Breton Film Archives, 1997), and La Chambre Obscure (1998).
Following his performances at the most important music festivals (Festival Interceltique of Lorient,Festival Celtic Connections of Glasgow, Harp Festival of Dinan), critics pronounced him as one of the leading Breton harpers of the new generation. His repertoire combines arrangements of traditional tunes with his own compositions in a contemporary style.
It is difficult to categorise Tristan Le Govic's musical affiliations as they span classical romantism, sacred music and music from the Celtic tradition.
Critics have acclaimed: "The magic of his harp", "His virtuosity", "His exceptional musicality", "The grace of his technique", even his "Divine touch". Always, he enchants his audience.
His first CD: Dasson ur Galon (A Heart's Echo) affords ample opportunity for the public to judge the veracity of these descriptions.