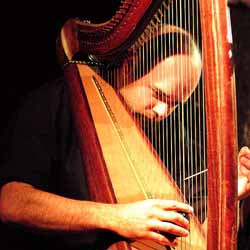 Rhodri Davies
Improvisation: Davies works in the field of new, experimental and improvised music. He explores noise, live electronics, silence, texture and abstract sound. He has been based in London since 1995 and has performed in the US, Japan, Canada and Europe.
Orchestral work: Rhodri has performed with many leading orchestras including BBC Symphony Orchestra, Bournemouth Symphony Orchestra, Columbus Symphony Orchestra, English Session Orchestra and The Royal Philharmonic Concert Orchestra. Concerto performances include An Evening with Richard Baker with The Brandenburg Symphony Orchestra.
Other work: Rhodri has toured the US, Canada, Europe, Hong Kong and Singapore with the soprano Charlotte Church. Appearing on Television shows including The Tonight Show with Jay Leno (2000) and performing at venues such as the Lincoln Centre New York (2001) and at the Tsunami Relief Concert, Cardiff Millennium Stadium (2005). He arranged the Welsh folk song Tra Bo Dau for Charlotte Church's Enchantment CD.