Edmar Castaneda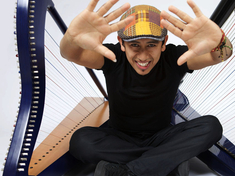 EDMAR CASTANEDA was born in 1978, in the city of Bogotá, Colombia. Since his move to the United States in 1994, Edmar has quite literally taken New York and the world stage by storm with the sheer force of his virtuosic command of the harp — evolutionizing the way audiences and critics alike consider an instrument commonly relegated to the "unusual category". A master at realizing beautiful complexities of time, while skillfully drawing out lush colors and dynamic spirit, Edmar has been characterized as "almost a world unto himself" (The New York Times). The legendary Paquito D'Rivera, Edmar's frequent collaborator, has remarked:

Edmar is…an enormous talent, he has the versatility and the enchanting charisma of a musician who has taken his harp out of the shadow to become one of the most original musicians from the Big Apple.

Not unlike his fellow rarified musicians that have transformed their lives and immediate circumstances through art, Edmar's journey traces back to humble and altogether inspiring beginnings. The son of a musician and a mother who nurtured young Edmar's obvious natural talents, he embraced the noble folkloric traditions of his native land. The "joropo" dance classes which he and his sister regularly attended became for him a master class in movement, accompanied by the harp. Even now, on stages across the globe, one notes how Edmar's body seemingly engulfs his Colombian harp as he crafts almost unbelievable feats of cross-rhythms, layered with chordal nuances rivaling the most celebrated flamenco guitarist's efforts.
In the beginning I learned to play traditional folk music…
I play "el arpa llanera" a Colombian folk harp. "El arpa llanera"…means harp from the plains. Edmar

Edmar's album, Entre Cuerdas, has caught the attention of reviewers and his burgeoning legion of fans. This recording, which features Marshall Gilkes (trombone) and Dave Silliman (drums, percussion) as well as special guests Joe Locke (vibes), John Scofield (guitar), Andrea Tierra (vocals) and Samuel Torres (cajon), is his second as a leader, and also marks his ArtistShare debut.

…it's hard to imagine the Colombian musician has much contemporary competition. That the harp sounds so natural in this context makes you wonder why so few have thought to utilize this many-stringed instrument as a viable lead instrument…"Jesus de Nazareth"…is all Castaneda, an expression of regality that's warm and tingly but appropriately spiritual, too. Jeff Tamarkin, JazzTimes

A highly giving individual, Edmar Castaneda is committed to sharing his mastery with others and improving people's lives through his music. Residencies have included: a week-long initiative and performance at The Banff Centre with fellow faculty member Dave Douglas and other jazz luminaries; as well as an interactive workshop at the Berklee College of Music, which focused on Latin culture and culminated in a full-on tribute to the late great Mambo King, Israel "Cachao" López.

In addition to his acclaimed performing career as an instrumentalist, which has included features at D'Rivera's Carnegie Hall tribute, The DC Jazz Festival (formerly the Duke Ellington Jazz Festival), Jazz at Lincoln Center, The John F. Kennedy Center for the Performing Arts, the Tanglewood Jazz Festival, the 10th annual World Harp Congress and numerous dates with artists such as D'Rivera, Wynton Marsalis and the Jazz at Lincoln Center Orchestra, John Scofield, Chico O'Farrill 's Afro-Cuban Jazz Big Band and John Patitucci, Edmar Castaneda has gained recognition as a composer.