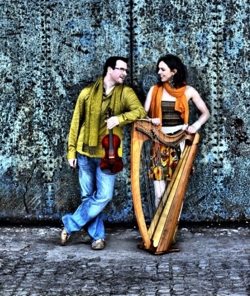 Catriona McKay & Chris Stout
Having gigged, explored and sculpted their musical identities together for 15 years now, Catriona McKay (Scottish Harp) and Chris Stout (Shetland Fiddle) continue to evolve and create a sound and style 'operating at a rarefied level of expertise' (The Herald). They recorded their first duo cd 'Laebrack' in 2005 and have been part of many other projects together over the years as trustworthy collaborators. The crafting of their voice as a duo which blends intensity with grace has drawn them to explore new music and new ideas for this partnership of traditional instruments.
Catriona McKay & Olov Johansson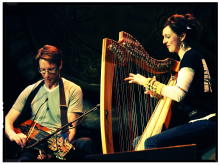 We met for the first time in Stockholm 2002 to share a concert with our bands, Vasen from Sweden and Shetland-based Fiddler Bid. Backstage before the concert Catriona asked Olov, "Do you know this one?" and played Eric Sahlstrom's Spelmansgladje, the most played Nyckelharpa tune ever!
We both really enjoyed the sound and the music we made together and that created a desire to further develop this collaboration. We didn't get a chance to do so until a few years ago at the Celtic Connections '07 concert, Fiddlers' Bid International. Since then we have met regularly and after a very fun tour in Sweden 2008 we decided to make this recording.
Come and join us on our exploration of traditional and new music from Scotland and Sweden, meet our way of making music and experience the sound of Scottish Harp and Swedish Nyckelharpa.
Welcome to Foogy!