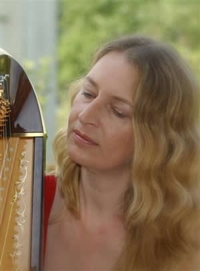 Born in Bagillt, North Wales, Glenda has been playing the harp since the age of ten. Her early achievements include successes at the Urdd and National Eisteddfod during her teens. These early years were dotted with concerts, orchestral work, performance for royalty and at the Royal Albert Hall in London and membership of a popular welsh band who appeared live with the likes of Max Boyce and on tv and radio. Glenda also composed a number of their songs.
She went on to study harp and performance at the Royal Welsh College of Music and Drama with Ann Griffiths and during this time she received the prestigious Pernod award in recognition of her work as an ambassador of the harp. She played the harp regularly for tourists from around the world who visited the Capital. Also travelling to Stuttgart, Germany for the twining ceremony with Cardiff. Glenda greeted HRH the Queen Mother with her harp playing at the official opening of St. David's Hall, Cardiff.
In her early twenties she released her first album 'Romanza'. During this time she worked extensively abroad and at home for the Wales Tourist Board and the British Tourist Authority promoting Wales with visits to Europe and the USA as well as throughout the UK. She then spent twelve months in the Middle East working as an entertainer in 5* hotels and then travelled world wide as a concert soloist on a luxury cruise ship.
On her return to the UK she embarked on a career as a TV presenter for the Welsh Channel 4 and famously became the First welsh speaking weather girl in the early nineties. Throughout her career as a professional harpist she has performed for royalty, appeared on tv and radio, played at most major UK concert venues alongside choirs and soloists, performed in touring shows and played in orchestras.