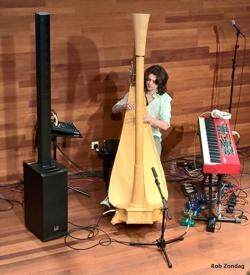 Benjamin made his international debut in 2004 when as a 7 year old he came second in the Under 18 class of the 1er Concours International de Harpe in Nantes, France. In 2006 he won the Under 13 solo harp at the Wales International Harp Festival and in 2008 (11 years old) won the Under 16 class at Concours de harpe Lily Laskine, in Paris. His prize was a Salvi Concert Harp. Since then he has developed an enviable reputation as a concert soloist and orchestral musician.
Currently Benjamin is the Principal Harp of Concert Orchestra de Cymru and Orchestra West and he has also performed as a concerto soloist with The Welsh Sinfonia, Llandenny Strings, Cardiff Philharmonic, Chandos Symphony Orchestra, Les Alizés and the orchestra of Le Garde Républicaine. He has also performed with numerous choirs as both a soloist and accompanist.
Benjamin has worked with many of charities over his career. In Particular he is an Official Ambassador for George Thomas Hospice Care, The British Heart Foundation Cymru and St. John Cymru Wales. On 1st March 2010 he performed at Clarence House for HRH the Prince of Wales at a reception for George Thomas.
Benjamin has made a number of TV programs with the BBC including Take a Bow (2007), Bobinogs (2008), Show me, Show me (2015) and a short film for CBBC about Lady Llanover in which he plays a Triple Harp (2014). Other TV appearances include the Urdd Eisteddfod, Carolau Llangollen, Noson Lawen, BBC Children in Need and Acapela (Made in Cardiff 2015). Radio broadcasts include The National Holocaust Memorial Event, Wales International Harp Festival & an interview for the BBC R4 documentary - Master Harper. During the summer of 2011 he featured on ITV1's 'Born to Shine' where over course of several months he mentored Welsh Rugby star Gareth Thomas to learn the harp and perform live on TV.
Whilst continuing his classical work, Ben is now in increasing demand for his jazz performances, working as both a soloist and band member. His repertoire covers all genres: from traditional jazz to modern electronic music. For the last three years he has been teaching a series of very successful 'Introduction to Improvisation' workshops as both one off events and at Harp Festivals worldwide, aiming to encourage harpists of all ages and abilities into the world of jazz.
As both a classical and jazz artist Ben has toured extensively around the world, performing in Brazil (2010, 2011, 2012), Canada (2011), The Caribbean (2013, 2016), Croatia (2013), The Czech Republic (2014), France (2008, 2010), Hungary (2010), Hong Kong (2017), Italy (2009), Netherlands (2008, 2011, 2013, 2016), Spain (2010, 2013, 2016) & USA (2017).

Closer to home Ben has performed as a soloist in both genres at The Edinburgh International Harp Festival, Wales International Harp Festival, The Summer Harp Festival, Monmouth Festival, Ludlow Festival, Trinity Harp Festival, The Derbyshire Harp Festival, The Cardiff Camac Harp Weekend, The East Anglia Harp Festival, Harp on Wight, Glasbury Arts Harp Summer School, Wall2Wall Jazz Festival, Black Mountain Jazz Club, Cambridge Jazz Festival and The Vale Jazz Festival.
Benjamin has released several jazz CD's including his 'Incomplete A-Z of Jazz Harp' and 'Pedals & Paws'. His latest album '1 Man Band' was released in February 2017 and is his most diverse and exploratory album yet. Ben has also published numerous arrangements, both classical and jazz, including his popular 'Jazz Harp Series'.
Upcoming performances for 2018 include Gypsy Jazz concerts with Adrien Chevalier (Violin) and Tatiana Eva-Marie (Vocals) from New York, Musikene Festival (San Sebastián), Camac Netherlands Tour, Gödöllo Harp Festival and the launch of his new Fusion band Chube.
January 2018
For further and more up to date information please visit his web site www.bjcg.co.uk