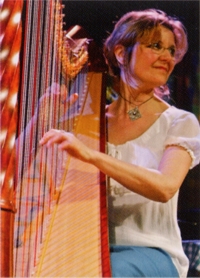 Susanna Bertuccioli completed her musical studies at the Gioacchino Rossini Conservatory in Pesaro where she graduated with the highest honours, under the guidance of Bianca Maria Monteverde. She continued her studies at the Curtis Institute of Philadelphia, under Marilyn Costello, and in Bucharest, with Ion Ivan-Roncea.
Susanna Bertuccioli was the winner of the 3rd Salvi Harp Competition and the XI edition of the Petrini Zamboni Competition. Between 1982 and 1984 she was the first harp of the Orchestra Giovanile Italiana and European Union Youth Orchestra, and in 1985 she became first harp of the Maggio Musicale Fiorentino Orchestra, where she continues to work with conductors such as Zubin Mehta, Riccardo Muti, Lorin Maazel, Georges Pretre and Seiji Ozawa. She has collaborated with the Orchestra della Radio Svizzera Italiana, the London Sinfonietta and the Filarmonica Toscanini, and in 2007 was invited by Zubin Mehta to perform with the Israel Philarmonic Orchestra.
In addition to her classical performances, she dedicates time to the study of wider-ranging repertoire, including jazz, pop and world music. In 2001 she recorded the CD Nevel for Beat Records, a musical conversation that goes from tango to blues, using a fusion of South American rhythms. Further CDs include Celtic Music and New Percussion for RAI TRADE, Selva de Varij Passaggi with Ensamble d'Allegrezza on Symphonia, Mistic Canto for Rugginenti, and Storie di Donne as part of Tuscae Genres.