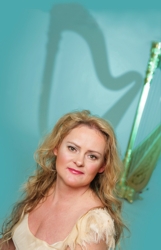 Harpist Ellen Sejersted Bødtker is a graduate of the Norwegian State Academy of Music, the Hochschule für Musik in Vienna, and Indiana University. She is well known in Norway, where she performs regularly with the Oslo Philharmonic Orchestra, the Norwegian Chamber Orchestra, and the Norwegian Radio Orchestra. She is also a member of the Oslo Sinfonietta and BIT 20, with whom she plays contemporary music.
Ms Sejersted Bødtker has given numerous solo concerts, and has also performed as soloist in Scandinavian Orchestras. In November 2001 she gave a solo concert at St. Martins-in the Fields in London which attended by Their Royal Highnesses, The King and Queen of Norway. In December of the same year, she was invited to give a solo concert at a luncheon celebrating the Nobel Peace Prize.
She has also had her own radio and TV-programs, featuring French and Spanish music. In 1997 she founded the flute and harp-duo Bella Polaris, and she was an active teacher in Oslo.
The Naxos CD "French Music for the Harp and Strings " (8.555328) marks Ms. Sejersted Bodtker's recording debut as a soloist.