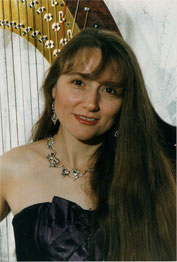 DANIELLE PERRETT has a firmly established career both as a soloist and as a chamber music player.
Something of a prodigy, she gained diplomas in harp playing whilst still at school and the Royal College of Music Junior Department just five years after taking up the instrument. She studied with Daphne Boden and later Renata Scheffel-Stein and she can trace her harpist tuition lineage back to several of the great virtuoso harpist-composers of the 19th century. Subsequently, Danielle was the first person to gain a Master's degree in Performance & Related Studies at Goldsmiths' College, London University.
She specialises in solo and chamber music on both modern and late eighteenth century harps and her recordings have been highly acclaimed.Her career has seen her perform solo and chamber music in the UK, USA, France, Austria, Italy, Ireland, the Czech Republic, Slovakia, Australia, New Zealand, Hong Kong, Malaysia, Japan, the Canary Islands, and Zimbabwe. She has also worked with students and their teachers around the world giving masterclasses and workshops as well as adjudicating.
Danielle has broadcast a great deal internationally and writes articles and reviews about harp related and other musical topics. She composes, edits and arranges harp music as well as researching the instrument and its repertoire from the late eighteenth to the early nineteenth centuries. An examiner for Trinity College, London, Danielle devised their international harp syllabuses. Danielle's interest in good posture and healthy performance practice also led to her becoming a qualified Pilates teacher and she specialises in teaching this to harpists and other musicians. She has adjudicated the UFAM celtic harp competition in Paris and the London Harp Competition. She is a liveryman of the Worshipful Company of Musicians.
"Sheer beauty of sound and virtuosity of technique were always subordinated to thoughtful musicianship and keen interpretative intellect."
The Times
"It is Danielle Perrett's stunning solo harp playing which offers the deepest insight ..."
BBC Music Magazine
"Danielle Perrett plays with finesse and sensitivity..."
Gramophone
"... the highly sensitive harp playing of Danielle Perrett, an artist of great sensitivity ..."
Hi-Fi News & Record Review
"... the harp pieces are both exquisitely played and could hardly be more authoritative."
New Penguin Guide to CDs
"[Ms. Perrett's busy and varied musical life] perhaps explains the depth of artistry, as well as superlative technique... a wide dynamic continuum is always deployed with great taste and discretion ..."
Classical Source