Cheyenne Brown and Seylan Baxter
36 harp strings and 4 cello strings
Scottish Harp, Cello and Song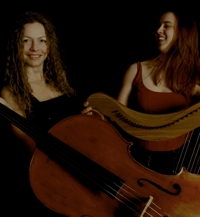 The duo of Cheyenne Brown and Seylan Baxter with their combination of Scottish Harp, Cello and Song are gaining plaudits for their energetic performances and warm stage presence. Cheyenne and Seylan met while studying at the Royal Scottish Academy of Music and Drama. Both are also experienced teachers and workshop leaders and together founded The Scottish Harp and Cello Festival in 2006.
Cheyenne Brown, from Bird Creek Alaska, came to Scotland on a full Associated Board scholarship in 2002 to study traditional music at the Royal Scottish Academy of Music and Drama. She was first inspired to play Scottish music at festivals in the US, where she has since returned as a tutor. She released an album with the harp duo, Wild Thyme, in 2001 and has performed in Thomas Zoeller's Homebound concerts and toured Scandinavia with HARPA, a group of leading North American folk harpers. Her playing style is characteristically free and creative, making much use of improvisation and contrasting textures. She is currently based in Craigmaddie, just outside Milngavie, where she works as a freelance musician.
Seylan Baxter was the first ever principle study cellist on the RSAMD's Scottish Music course. She developed her own unique cello style by adapting characteristic techniques of fiddle and other traditional instruments. Singing was a natural occurrence at home but she has benefited from guidance from tutors such as Gordeanna McCulloch, Rod Paterson and Karine Polwart. Seylan contributed to the album Barrunto by the Spanish group Acetre, singer/songwriter Iain Ingram's CD Words o Fiction and the forthcoming solo album by Ewan MacPherson of Malinky. She recently completed a teaching manual for cello accompaniment in traditional music.
Cheyenne and Seylan released their debut album '2:forty' in 2007.