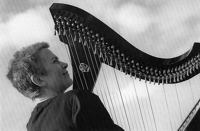 Born in the border town of Oswestry, Delyth moved to South Wales to study French and English and has been there ever since.
Although she played the piano from an early age, she did not take up the harp (and the Welsh language) until her early twenties. Starting her musical career with the Swansea-based band Cromlech, she later combined with two of the members to form the highly acclaimed instrumental trio "Aberjaber". Alongside this, she developed her own successful solo career, performing across Europe and the States, as well as closer to home. To date she has two solo albums and a third in the pipeline, combining her love of traditional music and her own contemporary compositions.
Delyth has also developed her musical, acting and teaching skills in her work for theatre, including a stint in a Theatre-in-Education company and acting as Musical Director for various productions at the Torch Theatre, Milford Haven. Highlights include a memorable version of "A Child's Christmas in Wales" that she describes as "like celebrating Christmas every night of the week". Recently she has worked with Swansea's Fluellen Theatre, including the composition of original music for their adaptation of George Borrow's "Wild Wales".