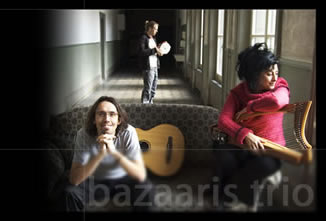 Bazaaris is an acoustic-trio out of the bazaarpool. Featured beside Asita Hamidi and Björn Meyer is the fantastic Swedish percussionist Fredrik Gille – a trio for eyes as well as ears!
It all started with an incidental, unforgettable marathon-trio-session with Asita, Björn and Fredrik. After that much more than a band was born… a deep friendship on and off stage is an unmistakable part of the Bazaaris – sound! Soon after they made their first tour and used the occasion to record some of the concerts. In 2004 their debut-album "Bazaaris Live " (bazaarpool cd002) was released and celebrated with a tour, which took them over big parts of europe.
Since then they have been busy again touring and recording. their second live-cd "Watersongs" (bazaarpoolCD007) is scheduled was released spring 2006 and will be followed by tours 06/07.
Beside performances in europe (i.e. during the Edinburgh International Harp Festival 2006) the trio has been invited by Pro Helvetia for a long stay as "artists in residence" in Egypt. During that time they prepared a new program and live-CD "Cairo Project" with the extraordinary oudplayer and singer Ahmad el Sawy, Sawah Mohamad - trumpet & violin and Sami Mohamad - violin; (festival-concerts in Cairo, Alexandria, Den Haag, Bern...)