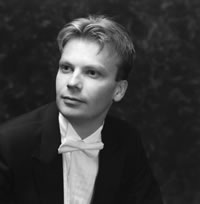 Christopher Langdown appears regularly as a soloist giving concerts and recitals throughout the UK and Europe. Born in Birmingham, he graduated with Distinction from the Royal College of Music in London after studying for six years with Professor John Barstow. In recognition of his musicianship, Christopher was nominated at the RCM to perform the music of Shostakovich to legendary exponent Tatiana Nikolaeva and was further distinguished in being selected by The Wall Trust as a piano scholar of "outstanding talent".
Christopher has acquired numerous awards and was finalist and prize-winner in the 1997 Robert William and Florence Amy Brant Pianoforte Competition which attracted artists from around the world. He subsequently represented the UK in the Limassol European Festival in Cyprus and gave his highly successful debut at London's South Bank Centre. TV and radio appearances have included televised concerts overseas (solo and chamber), interviews for arts programmes and a recital on The Resurgence of English Music broadcast live from Madrid on Radio Clásica.
Described as a "brilliant" and "truly memorable" soloist by the Press, Christopher has also enjoyed acclaim as a chamber player and has collaborated extensively with artists such as the Martinu Quartet. Following two solo recitals at the International Auditorium in Lanzarote, he has given masterclasses under the auspices of The British Council in Malta and was invited to give masterclasses in Spain.
In addition to his concert career, Christopher is currently Head of Piano at The Kingsley School in Leamington Spa and has previously been a visiting teacher at Birmingham Conservatoire Junior Department and at the Royal Academy of Music in London. As an adjudicator, he has been invited to Music Festivals in Birmingham and Hong Kong.