Sleeve Notes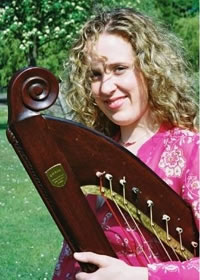 Whilst academically trained, and a brilliant classical musician, harpist Angharad Evans' roots are firmly embedded in Welsh folk music, of which she is a superb executant.
Apart from the Celtic harp, the concert harp and the piano, all of which she plays well, Angharad made a speciality of the triple harp from a very early age.
It was as a twelve-year-old virtuoso on this difficult and special instrument that she stunned the audience at the Rhymney National Eisteddfod, winning first prize against the most experienced Welsh harpists. A triple harp had not been seen on the Eisteddfod stage for some seventy years, and Angharad created a sensation.
Whilst still at school, and a pupil of Sali Wyn lsiwvn, she won two further first prizes at the National Eisteddfod.
At Cardiff University, Angharad studied the harp with Ann Griffiths, graduating with a BMus(Hons) in 2000, and Master of Arts (performance studies) in 2001.
Whilst at University, she played not only virtuoso concertos, orchestral repertoire and chamber music on classical harp, but also the Mozart Concerto in an illuminating performance on an cighteenth-century harp.
Even more importantly, Angharad played the Handel Concerto on the original instrument, the triple harp, in two prestigious concerts, firstly with Peter Holman and secondly with the Welsh Sinfonia.
In her penultimate year at school. Angharad took time out with her triple harp to undertake a country-wide promotional tour with the well- known folk-singer Siwsann George and subsequently she has been invited as a soloist in the Folk festivals of the Arctic Circle and in 2004, in Lorient.
As a classical harpist on the concert harp, she has played in Spain, and on the Triple Harp, for various crowned heads, including the Crown Prince of Denmark, Queen Elizabeth II and Prince Philip.
The two harps Angharad plays on this CD are both modern 'perpendicular' triple harps.
Hers is built by John Weston Thomas (1931 - 1992), and called 'Gwaun', being so named after the stream that ran close to his home, and the other is by Brian Blackmore.
A triple harp is so called because it has 3 rows of strings, the two outer rows of which are tuned diatonically in unison, whilst the inner row is tuned chromatically.
The most typical effect obtainable on this harp is that of 'bells', hence the title 'Carillon'.
Notes: Ann Grifliths